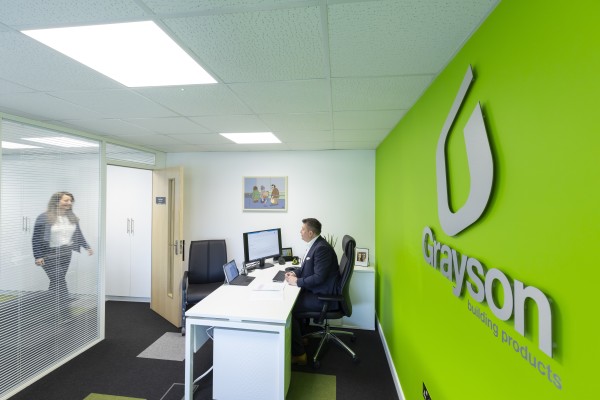 We were introduced to Tony from Grayson Building Products by another local business owner who was working on the graphics for his Rotherham based office revamp project. They were at the stage where they were knocking down walls and had plans in place for what was going to be in the space structurally but needed furniture to complete the vision.
We visited their offices to view the space so we could get a better view of how they worked in the space and the interior theme they were working towards. Tony very much wanted the furniture to reflect the brand and for it to to be of a good quality and built to last.
The specific rooms that needed furnishing were....
Directors offices
Canteens
Boardroom
Meeting rooms
Reception area
Ground floor open plan offices
First floor open plan offices
We put together some ideas which were a mixture of new and pre-loved furniture so we could keep in line with the budget and then Tony visited our showroom in Leeds to look at some of the product "in the flesh". Once he had tested out a few chairs and other pieces of furniture we tweaked the ideas until we had the product that was perfect for them.
It was important that the new space gave the right impression to visitors so we went "premium" on the client facing areas resulting in an inviting, comfortable and functional space.
We have been lucky to get lots of professional photos to share on this one (see below for details of the fab photographer) so thanks to Tony and team for allowing us to share them.
Here is what Tony had to say about the whole experience of working with Re:Work..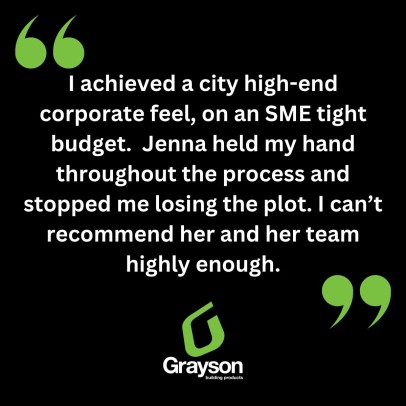 Find out more about Graysons here
Refurb by Mark Davison at Mowbray Interiors
Graphics by Steph at Wall Nuts
Photography by Iain at Iain Klieve Video Production & Photography