Helping a household name maximise space for 110 employees
When a large nationwide company needed to maximise space for their 110 office-based employees, they were keen to engage a Yorkshire-based company and eager to use a social enterprise. Our credentials and experience made us perfect for the job.
The challenge:
The clients were looking to maximise space in terms of workstations, incorporating clean lines and finishes, and invest in a good quality chair that would suit the majority of the 100+ users. We were also tasked with proposing some furniture for their kitchen/breakout space.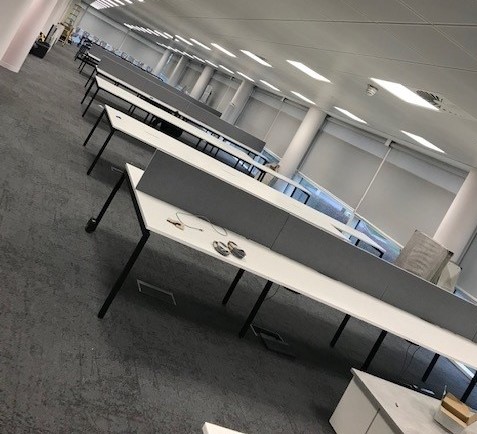 Our solution:
To give them chance to explore all the options available to them, we invited the client to our showroom. They had a layout ideas already, but were unsure of all the options available – needing advice on desk style, seating, colours, and, of course, costings. The visit gave them plenty of inspiration, plus the chance to look over the range of chair options available, test each one out and find one that was cost effective, looked good and came with a great guarantee.
It was also important to establish the right number and size of workstations within the office, including a height adjustable desk for a taller member of the team. As an office that would host over 110 members of staff, Emily, our lead client, wanted bench style desking to allow best use of space with the addition of screens for some privacy. We not only sourced the perfect desking, but our team of fitters met our supplier's vehicle on site to take care of delivery and handling to the first floor and full installation and assembly.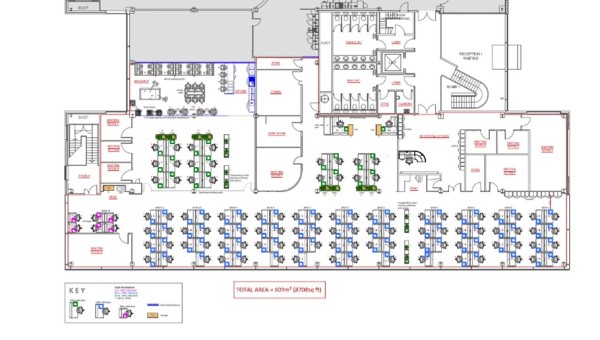 Office Manager & Head of the Move, Emily was said: "You have a great team… I have found everyone really helpful. I appreciate how much time and effort you put in. The delivery and installation went smoothly, with all furniture in place on time."
Rework CEO Caroline Wherritt adds: "After the effects of Covid, working on a large job for a national client was a welcome challenge. We worked closely with Emily to make sure we delivered exactly what she wanted within tight parameters and kept a close eye on budget as this was a costly move for the business."